Early Electronic Music ~~ Contemporary Recital Works
James Siddons was active in early electronic music (1970 and earlier), composing a number of works of tape music using Moog and other analog synthesizers, as well as pieces for various instruments in contemporary classical styles. Following the example of Merrill Ellis, founder of the electronic music program at the University of North Texas, these works are multimedia in content, and combine tape music from the electronic music laboratory with live performance. Several of these works are theatrical "happenings"; one was produced and videotaped at a television studio in 1969.
Background
          James Siddons first experimented with electronically-produced sounds in the mid-1960s, using whatever electronic organs and keyboards were available. He performed on a portable Doric 61TT electronic keyboard (made in Italy) with several "Top Forty" and rhythm-and-blues groups in the North Texas area, as well as a Hammond B-3 organ. In 1966, he submitted a tape piece of experimental music performed on a Solovox electronic keyboard and modified piano to the BMI Student Composers Competition.
          In early 1967, he heard Merrill Ellis in a performance of his Kaleidoscope for female voice, orchestra, and Ellis himself in live performance on a Moog synthesizer made expressly for his studio at North Texas State University (later, the University of North Texas). Siddons then studied with Ellis over the next several years.
          Merrill Ellis had founded the Electronic Music Composition Laboratory at North Texas in 1963, following a visit and lecture by Vladimir Ussachevsky in 1962. Ussachevsky lectured at a number of American universities at that time, and several electronic music studios were launched as a result of his influence, including the one at North Texas. Until the late 1970s, the laboratory was located in a house in a residential neighborhood adjacent to the campus. A new music building then opened that included a suite of studios known as the Center for Experimental Music and Intermedia. Following Ellis's death in 1981, its primary performance venue was named the Merrill Ellis Intermedia Theater.

Fig. 1. Merrill Ellis (upper) in the Electronic Music Composition Laboratory of the University of North Texas in 1968. The Moog synthesizer is in the lower left, above the keyboard.
          Siddons wrote many acoustic and electronic compositions while studying under Merrill Ellis, as well as twelve-tone and serial works under the tutelage of Dika Newlin, a protégé of Arnold Schoenberg. Acoustic and electronic works of this period are listed below, by year. Of the various experiments and creative projects in the Electronic Music Laboratory that Siddons carried out, the following are finished works appropriate for public performance. They were all created on the Moog synthesizer and other equipment in the laboratory, using the N. T. S. U. Electronic Music Composition Laboratory Manual (1968), co-authored by Merrill Ellis, Robert C. Ehle (consultant), and Robert A. Moog.
1967
J. P. Morgan Finances the Panic of 1907
The clarinet duo "J.P Morgan Finances the Panic of 1907" was originally composed in December, 1967, when the composer was 19 years old, and was inspired by Walter Lord's description of the Panic of 1907 in his book The Good Years (1960). The duo was revised June, 1969. To preview the score or to purchase (download; two copies are needed) or to hear a live performance, click here.
1968
Dance of the Wind-Up Toys
"Dance of the Wind-Up Toys" was composed in April-May 1968, when composer James Siddons was 19 years old. It was inspired by mime performers as well as the mechanical toys common in the early twentieth century. The score calls for Clarinet in B-Flat, Violoncello, and one to three percussionists to play a cymbal (medium) on a stand, hi-hat, and snare drum. In addition to being performed as an instrumental ensemble, this piece may optionally include one or more mime performer(s) or dancer(s) who imitate the stiff, angular motions of mechanical toys. Further performance and staging directions and suggestions are in the score, including cues for when the dancer(s) enter and exit. To preview this score or purchase the score and parts, or to hear a rehearsal recording, click here.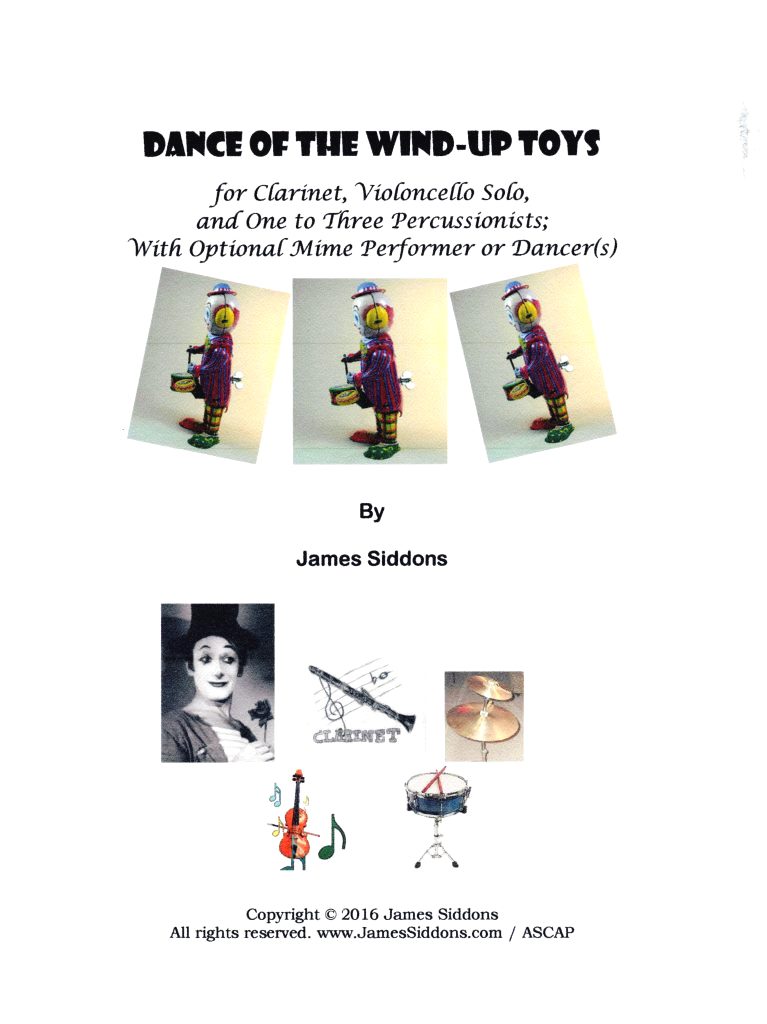 Left: Score cover art by James Siddons, 2016.
Texas Whistler
Tape piece; musique concréte using percussive sounds and electronic tones (sustained, low pitch, no rhythm). Graphic score, 8 pp. Duration: 2:00 mins. The blank score paper is a stock design by L. Silla intended for motion picture sound tracks, and includes a line for a click track or time-line. The title refers to a small, rocket-like type of fireworks. The music was realized in the Electronic Music Composition Laboratory of the University of North Texas in July 1968, using the Moog synthesizer and related equipment (tape recorder, microphones, reverb unit, etc). The tape is lost.
Happenings in a Socio-electronic Environment
A musical-theatrical happening that experimented with the removal of time as an organizer of society. As a tape of electronic sounds made using a Moog synthesizer played, a singer, an announcer, a mobile mannequin, and other rehearsed participants were seen and heard throughout the recital hall; visual effects using lighting and overhead projectors were used; a mock newspaper, the Oscillator, reporting events in the happening in the past tense, was handed out to the audience during the happening; spontaneous audience participation was encouraged. Merrill Ellis assisted with the planning and production of this happening, which took place as the concluding item in a recital of works created at the Electronic Music Composition Laboratory of the University of North Texas, on July 31, 1968. Due to the spontaneous nature of this happening, only a few planning memos remain, along with the tape recording.
1969
Vashti's Revealing: A Dance Experience
A multi-media theater piece, loosely based the Biblical story of Vashti (Esther 1:5-12), deposed queen of Xerxes I of Persia, that imagines that Vashti later went to the royal banquet in a ritual procession, with a choir of priestesses, to perform a dance.
The performing forces of this work include:
Vashti --- a beautiful dancer with a good speaking voice.
Man in the Audience --- sits quietly, except for a few spoken lines.
Solo flutist.
Choir of Six Priestesses.
A tape of electronic music prepared by the composer.
Light Crew --- not seen by the audience; operate house lights, strobe-lights, visual projections of abstract designs etc.
Artist --- prepares the abstract designs to be projected by the light crew.
Although this work can be produced as a live performance, it was also produced as a television program in the television studio of the University of North Texas in August, 1969, under the direction of the composer, with student performers. This studio performance was recorded on an early form of video recording known as the U-matic system. The U-matic tape (now lost) was played in a recital of works by James Siddons at the University of North Texas on October 14, 1969.
For television production, the scenario and music of Vashti's Revealing follow this formal structure:
Vashti's Revealing: A Dance Experience
By James Siddons
Scene 1
Audio:
Spoken text: a poem, a dialogue, a recorded poem
Music: jazz – fast, loud, improvisatory solos, but with written
parts; six tones only in the written parts: D, E, F, G, A, B; played by six male instrumentalists.
Video:
Set: bright lighting; one unlit candle
Cameras: views, cuts, and fades to clear
Interlude
Audio:
Flute Solo. The first part of the solo is slow, soft, expressive;
uses only the notes B flat, E flat, E, F, G, B. The second part is
fast, forte, in a steady rhythm; uses only G flat, A flat, B flat, C,
D; has F sharp key signature.
Video:
Set: Only one position for performer; no moving about; more
elaborate costuming and props.
Cameras: clear as well as nebulous shots; close as well as
distant views; frequent double exposures.
Scene II
Audio:
Chant instead of speech: words and music combined.
The chant is the music of first part of the dance music, a ritual procession. Chant is sung from memory by six singers (priestesses). There are only six tones: E flat, G flat, A flat, B flat, D flat, C.
The second part of the dance music, for a solo dancer
portraying Vashti, is a tape of electronic music.

Electronic music: tape music; slow, soft; always the same
electronic sounds.
Video:
Set: faint lighting, six burning candles.
Cameras: shots often overlaid, slow fades, some out-of-focus.

Fig. 2. Composer James Siddons (left, back to camera) discusses improvisations with three members of the jazz ensemble in Scene I of Vashti's Revealing. To the right are cameras, microphones, and other equipment; and members of the technical crew, preparing for the video taping of the performance. Studio of KNTU-TV, University of North Texas, August, 1969.

Fig. 3. Entrance of Vashti in Scene II of Vashti's Revealing, just before her solo dance. Studio of KNTU-TV, University of North Texas, August, 1969.
The structure of the sections of Vashti's Revealing are in the shape of a chiasmus, in that the fast, energetic mood of Scene I is recalled in the second part of the Interlude. The slow, quiet mood of the first part of the Interlude foreshadows Scene II. There are a number of contrasts between Scene I and Scene II. To give one example, Scene I has dialogue and poetry reading; Scene II has singing (chant) and dancing to wordless electronic music. Duration: about 10-12 minutes, depending on the performers' improvisations in music and dance.
One creative objective in this work was to experiment with electronic music in combination with live performers. This was inspired by Merrill Ellis's interest in live performance of electronic music. (The second synthesizer purchased by the North Texas Electronic Music Composition Laboratory was the Ellis-II Performance System, made by Robert A. Moog using his 900 Series components.)
The script, production notes, story-board sketches (12x18 inches, artist's sketch pad), scores and parts for the music, and tape of the electronic music, as well as photos of the studio during production and taping, are in the composer's possession. The U-matic tape is presumably lost.
1970
A House for All Men.
To watch the video, click here.
To preview or purchase the sheet music, or hear a recording of, the "Theme from A House for All Men" for piano solo, click here.
"A House for All Men" portrays of the cruelty suffered by African-Americans during the days of segregation. There are two components: 1) a tape recording of a voice singing, and also of electronic sounds realized on the Moog synthesizer in the North Texas Electronic Music Composition Laboratory. The voice is a baritone singing an original song in the style of a Southern work song. In the electronic music, this melody is treated as a tone row, and is heard in retrograde, inversion, and retrograde-inversion forms with numerous musique concréte treatments. 2) As the tape music is heard, the audience sees a series of thirty-three Kodak slides. Except for the title slide, the slides show period photographs of elegant 19th-century Southern mansions, reproduced from various sources, then scenes of Southern sharecroppers at work in cotton fields, and finally photos of lynchings, the burning of a black family's home, and other scenes of cruelty originally photographed by Works Progress Administration (W.P.A.) photographers in the 1930s. Some of the concluding photographs show extreme cruelty and are not suitable for young audiences. The composer selected all the photographs and arranged them in a sequence that is supported dramatically by the vocal and electronic music on the tape recording. Duration: 5 mins. Created March-April 1970. The slides, vocal scores, and tape recording are extant, and were used to create the video now on YouTube in 2016.
Musical Happening (1968-1970)
James Siddons founded and edited Musical Happening, a newspaper about contemporary music in the Dallas/North Texas area, in 1968. There were nine issues. The February, 1969, issue was not a printed periodical; it was a 3-inch reel-to-reel tape recording that featured Merrill Ellis improvising, and performing his "Triolet" (with poetry written and spoken by Richard B. Sale), on the synthesizer Robert Moog built for him. The portion of the tape issue with the Ellis music was made into a video in 2019. To see this 5-minute video, click here. For more information about Musical Happening, click here.
Creative Work in Britain
          In 1970-71, James Siddons was a student in the M.Mus. program in musical analysis at King's College, University of London. Arrangements were made for him to do creative work in the electronic music studio of Goldsmiths' College under the guidance of Hugh Davies during the autumn of 1970. Although the Goldsmiths' studio was intended as an experimental studio, Siddons did compose one finished work suitable for public performance:
          Guy Fawkes. A Musical Theater Work for Male Actor, Female Actor, Electronic Music Tape Recording, Percussionists, and Melodic Instrumentalists. The composer's attention was drawn to the historical Guy Fawkes when he heard a child with a stuffed effigy say "A penny for the Guy?" near Russell Square, London, in November 1970. That inspiration led to the scenario of an imaginary dialogue between a fictional 17th-century London Herald and the Spirit of Guy Fawkes (the female actor) about the meaning of the famous bomb plot. A tape recording of electronic music, realized at the Goldsmiths' studio, is heard throughout the performance. Duration: 5 mins. The score, tape recording, audio control diagrams for the synthesizer in the Goldsmiths' studio, and musical parts are extant.
Fig. 4. One of the technical sheets used by James Siddons in realizing the tape music for "Guy Fawkes." The work-sheet design was developed by the electronic music studio at York University.
There were some other experiences for Siddons related to electronic music during his London year. In September 1970, prior to arriving in London, he attended the Gaudeamus International Music Week in Bilthoven, The Netherlands, as a journalist; he also visited the Institute for Sonology in Utrecht. In October 1970, he met Robert Moog at a music trade show at Earl's Court. He toured the BBC Maida Vail studios with a group of King's M.Mus. students in 1971, and attended a lecture by Stockhausen in The Mews (near Trafalgar Square) in which he asked the audience to imagine how a Beethoven symphony would sound if it were compressed into a few seconds' duration.
An important development was Siddons's M.Mus. thesis, an analysis of Varése's Hyperprism (1923), which Siddons studied, along with Varése's other works of the 1920s, as precursors of the Poème électronique (1958), and electronic music generally.  Varése's interest in the structural design of crystals led Siddons to look for ways of describing electronic music, often amorphous and without measured time, in precise terms, or in precise graph notation. Another effort at this was his analysis of one of Stockhausen's Klavierstücke I—IV (1954) for his portfolio of analyses for the M.Mus. degree. Taking a cue from Stockhausen's statement, "Different shapes from the same light," Siddons identified distinct groups of three pitches each that could be represented by triangles of varying colors of ink. A study in 1978 of Varése's Density 21.5 also revealed triangular and other shapes reminiscent of crystals that could be represented in graphic designs and notation. To read or purchase this article (published in Perspectives of New Music, 1984), click here.
Fig. 5. James Siddons was included in Ian Helliwell's Tape Leaders: A Compendium of Early British Electronic Music Composers (Cambridge, U.K.: Sound on Sound, 2016), p. 116. His profile included a 1976 photo taken in the first electronic music studio at the University of NorthTexas (see Figure 1), showing (left to right) Larry Austin (a graduate of North Texas who returned to teach there in the 1980s), British composer Anthony Milner, who taught at the University of London King's College and the Royal College of Music, James Siddons, and Merrill Ellis.
Musicological Interest in Electronic Music, Especially Japan
Siddons' interest in electronic music in Japan began during his 1972-74 research scholarship at Tokyo University of Fine Arts and Music, when he visited the electronic music studios at the NHK Broadcast Center, and at the Sōgetsu Hall, Tokyo. He first began to collect scores and recordings of Tōru Takemitsu and other Japanese composers of electronic music in 1974. A return to Tokyo University of Fine Arts and Music as a Fulbright Scholar in 1989-90 was fully dedicated to research in contemporary Japanese composers, and has resulted in a number of lectures and publications, such as Siddons' Toru Takemitsu: A Bio-Bibliography (Greenwood Press, 2001), which includes a complete listing of Takemitsu's electronic and other works, film music, and prose publications. Although Takemitsu generally lost interest in electronic music after the mid-1970s (as well as the failed objective of combining instruments of Japan and the West in a viable synthesis), the influence of creating music in (electronic) sound is heard throughout his many orchestral and chamber works of his 1975-1995 style period (he died in 1996). Takemitsu's influence in Britain heightened when he was a featured composer at the Almeida Festival of 1986, and Simon Rattle conducted performances of his orchestral music for a number of years. (Other Japanese composers studied electronic music in West Germany, New York, and California in the 1950s and 1960s, but none had any influence on British composers, unless one recognizes the late-century synthesizer works of Ryūichi Sakamoto and others.)
Fig. 6. James Siddons and Toru Takemitsu, Suntory Hall, Tokyo, March 1990.
Click here to return home.