Music for choir, children and worship by composer James Siddons falls into several categories: choir, vocal solos, handbell music, organ solo music, and contemporary praise music. Some of these works are shown below; more are available at SheetMusicPlus and ScoreExchange.com.
(click here to return Home)
Choral Works ~ Instrumental Works ~ Vocal Solos ~ Contemporary Praise ~ Handbell Music
Choral Music
Two Views of Scott Joplin
-- A two-movement choral work with two speaking parts, with piano accompaniment. The music is almost entirely drawn from piano and vocal works of ragtime composer Scott Joplin, as are the words. However, this is not a medley but a recasting of Joplin music themes and lyrics to create a short cantata about the life of Scott Joplin, and his tragic short marriage to Freddie Alexander. To examine and purchase the score, and listen to a rehearsal recording, click here.
Three Songs About Prayer With God
-- A study on choral sonorities. This is not an arrangement or medley of hymn tunes but a devotional shaped by the power of sound. The text is taken from "I Can Hear My Savior Call," "Rock of Ages," and "Near To the Heart of God," but only those verses that describe a soul approaching God through prayer -- prayer as musical sound. The score includes extensive directions for performance and conducting method; for example, conducting with chironomy rather than metrical gestures. This is a concert work, or a work for such special services as large funerals or memorial concerts. For TTBB choir, tenor and bass solos, organ, and timpani. Duration: 8 mins, 10 secs. To examine or purchase the score, and hear a rehearsal recording, click here.
Psalm 130: Aus tiefer Noth
This anthem is a choral fantasia on the Reformation hymn Aus tiefer Noth. The text is the English translation by Catherine Winkworth (1827-1878) of Martin Luther's versification of Psalm 130, known in the Latin liturgy as the De profundis (Psalm 129). It is found in many English hymnals as "Out of the Depths." The chorale tune associated with Aus tiefer Noth is attributed to Martin Luther; it appeared in Johann Walther's chorale-book of 1524. Using this five-hundred year old tune, this anthem draws on 15th-century Flemish polyphony and mid-20th century jazz (specifically, parallel motion of block-chords, walking bass, and major-seventh chords) for its tonal character. This work calls for optional organ accompaniment and SSATB choir, in which the Sporano I part may be sung by children. Performance duration: 5 mins, 30 secs.
This psalm is most associated with Lent, penitential worship, funerals, and worship following tragedies and catastrophes.
The present setting was composed by James Siddons in January 1989, and is the first in his long series of settings and interpretations of the Psalms for a wide variety of vocal and instrumental combinations and musical styles.
To examine or purchase this score, and hear a recording, click here.
Psalm 146: Singing Praise to the God of the Lowly
This work for SATB choir and organ is shaped by musical elements of the synagogue chant, contemporary harmony, and cinematic effects associated with film scores. The translation of Psalm 146 from the Hebrew is by the composer, James Siddons. Performance duration: 4 mins. To examine or purchase the score, or hear a rehearsal recording, click here.
Instrumental Works
Two Violoncello Works for Advent and Epiphany
The works are based on the tunes of the carols "In the Bleak Midwinter" and "We Three Kings of Orient." But settings include collaborative piano, where the tune is heard. The cello music is soloistic and, in "In the Bleak Midwinter," a rhapsodic duet for two cellos that interpret Christina Rossetti's poem. The score (piano and cellos) and parts are available at SheetMusicPlus.
Fanfare on "Low in the Grave He Lay"
An ideal work for Easter, this setting is for organ and Bb trumpet or organ and two Bb trumpets.
Trio for Flute, Violin and Piano on "More Love to Thee, O Lord"
The piano accompaniment plays a 3+3+2 pattern in 6/8 meter to create a Sicillian folk-music rhythm as the flute and violin interweave the strains of the hymntune. Score and Parts are available at SheetMusic Plus.com.
Vocal Solos
"I Am Lost" is inspired by Matthew 18:11 (also Luke 19:10) …For the Son of man is come to save that which was lost. This song is a vocal solo in easy-listening jazz style. The piano accompaniment can be expanded to include double bass or electric bass, jazz or acoustic guitar, drums played softly with wire brushes, and a soft solo instrument, such as flute or muted trumpet. To see the score or to purchase, click here.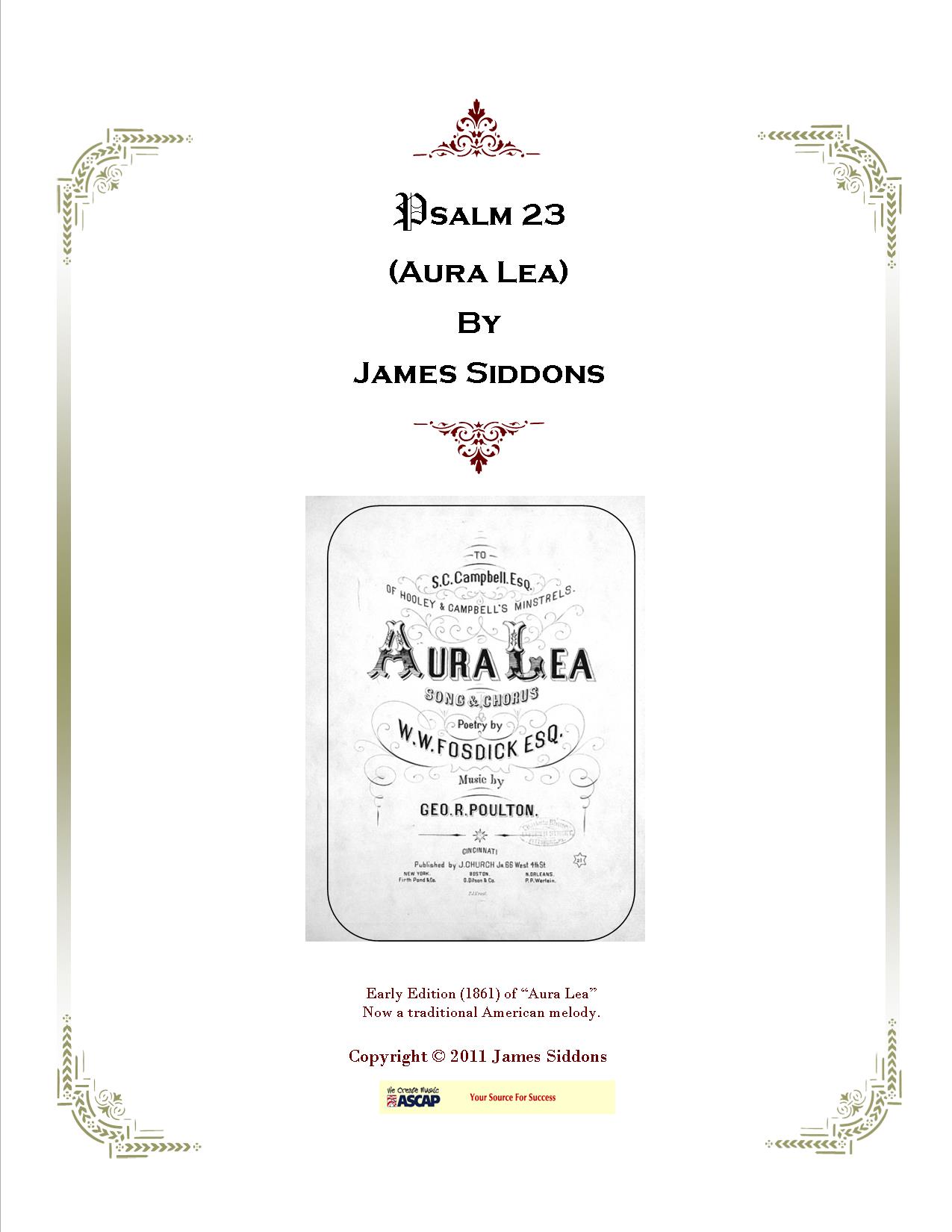 Psalm 23 (Aura Lea) --- This song features the traditional translation of Psalm 23 (KJV) set to the melody of the Civil War-era tune "Aura Lea." The title page shown above has the original 1861 title page of "Aura Lea" in the center. The piano accompaniment by composer/pianist James Siddons (2011) evokes the sound of pianos of a century ago in wooden churches and small music halls. To see the score or to purchase, click here.
"The Beatitudes" begins with a meditative litany for singer and keyboard or band, and builds to a joyous climax on the words "Rejoice, and be glad," repeated as many times as appropriate, with congregation joining in if desired. Appropriate for youth events with large attendance as well as regular worship. The words are those of Matthew 5:3-10 and 12a (KJV). A unique feature of this composition is the cover art created by James Siddons for the titlepage, showing a cross-word matrix that interprets the key words found in The Beatitudes (see below). To see the score, or to purchase, click here.
Contemporary Praise
"Jump and Shout It Out!" is a fast and energetic song for praise worship. Ideal for large youth events. To see the score, or to purchase, click here.
"Gone Up" is an energetic setting for a contemporary Christian music group of Psalm 47. Both the music and the lyrics, a paraphrase of Psalm 47, are by James Siddons. "Gone Up" can be performed by any combination of singers, keyboards, guitars and/or drums that a contemporary Christian or Jewish worship team might have. To see the score or to purchase, click here.
Handbell Music
"Shrill Chanticleer: A Song of Emmanuel" --- This score is for two Readers, handbells (3 octaves) and organ.

A medieval folk-belief of old Europe was that of all the animals miraculously starting to speak at the birth of the Christ Child. In about 1630, William Austin, a poet and lawyer in London, drew on this traditional belief to write one of his Carrols, for Christmas-day, in which he imagined what the most Stentorian animal of all, the rooster, might say about the new-born Holy Infant in Bethlehem.
In setting William Austin's "carrol" to music, James Siddons has given the organ the role of creating a soundscape to underpin the drama of Chanticleer's proclamation. Following each of Austin's three stanzas (in dramatic recitation by the two Readers), an adaptation of the old French tune"O Come, Emmanuel" is played by handbells in a harmonic style that recalls the pealing of church bells on Christmas morning. This work is appropriate for the beginning of Advent and Christmas day worship, and in a service or program of Christmas music; for example, a service of lessons and carols. Score available at SheetMusicPlus.
"More Love to Thee, O Christ" --- William H. Doane's beautiful melody of 1870 is set for handbells with piano accompaniment by James Siddons. The piano part presents a gently undulating arpeggio in 3+3+2 rhythm. There are several versions of this arrangement. For a setting calling for handbells and piano, in which the bells may be played by a soloist or several bell ringers, click here. For a setting of the same musical arrangement, but calling for handchimes and piano accompaniment, click here. For viola solo with piano accompaniment, click here. A setting for flute, violin and piano is described above under Instrumental Music.
"I Wonder As I Wander" is a Christmas song from the Appalachian region of the United States. This setting by James Siddons calls for both handbells and handchimes to play with the piano. The mood is soft and quiet, appropriate for Christmas Eve music or for Advent worship. To preview the score or to purchase, or to hear a rehearsal recording, click here.
Vocal Solos for Children and Youth
"Everyday Miracles" --- In Psalm 91:11-12, God promises to send His angels to watch over us. That is a wonderful miracle, but what about little acts of grace that anyone can do? Composer James Siddons provides a look at "everyday miracles" that happen all around us. This easy song suits high voices well. To see the score, to purchase, or to hear a rehearsal recording, click here. Sheet music cover art (below) by James Siddons.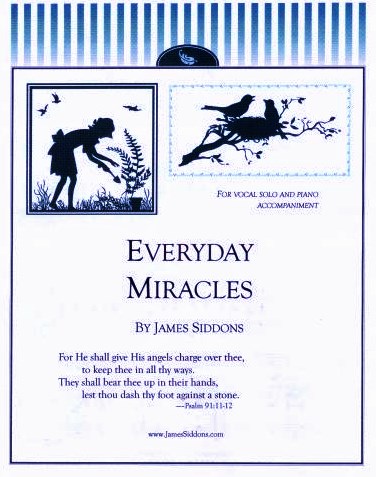 "The Rider of the Sky" --- A dramatic song for recital or worship performance in neo-Baroque style, with a recitative followed by an aria that is based on the Toccata in Widor's Organ Symphony V. The words are Psalm 68:32-35, and a paraphrase of Psalm 118 by the composer. The piano accompaniment evokes the tone colors of the harpsichord and the pipe organ. This is one of a series of works by composer James Siddons setting the Psalms to music in a variety of forms and styles. The title page (by James Siddons) is shown below. To see the score, or to purchase, click here.