Recital Works and Recordings for Piano
The deep interest James Siddons has in American music of the 1850-1950 era began in 1961 with his piano lessons with Eva Jo ("PeeWee") Baggett (d. 1989), who had a long career in Texas and California playing piano for silent movies, live radio shows, and ballrooms. In retail music stores, she accompanied Eddie Cantor and other singers who came to town to promote new Tin Pan Alley songs. In 1915 she learned to play "12th Street Rag" from the composer, Euday L. Bowman, at the cafe in Fort Worth where he was playing; in 1961 she taught James Siddons to play it, using the same piece of sheet music. Over three years, "PeeWee" Baggett taught James Siddons an authentic way of playing ragtime, piano blues, "standards" of the 1920s, and other popular styles of the early 20th century. To hear a 1972 recital of piano solo ragtime music performed by James Siddons, click here; for a 1976 recital click here.
Beginning in the late 1980s, James Siddons became interested in composing new interpretations of Protestant hymns for piano solo, evoking the spirit of the American church piano tradition. His CD "Reflections on Favorite Hymns" (2001; Major MGR 1578) has some of these arrangements. The Sonata Hymnica Series is a more recent outcome of this line of creativity. The album "Christmas Beside an Old Piano" (2001) has similar creative work with Christmas carols. In 2006, James Siddons performed an extended improvisation on "Pass Me Not, O Gentle Savior" at the Praying Through the Arts Festival in St. Ann's Hall, Ashland, Virginia. The video of that performance is here.
The Sonata Hymnica Series
Composer James Siddons draws on the ethos of American rural hymns and spirituals to create evocations of the deeper, larger meaning of familiar church melodies. These sonatas for piano solo explore these deeper meanings in a variety of contemporary musical influences, while keeping in mind the acoustics of small rural churches of the late nineteenth century, with wooden floors and walls, high ceilings, and dimensions determined by local builders who knew how to shape a room for excellent acoustics in an age of no electricity and no microphones. These sonatas are but partly about the specific melodies and words, and mostly about their meaning in spiritual contemplation . . . and the piano, resonating, reverberant, sometimes whispering---as a sacred harp.
Sonata Hymnica No. 1 --- Score and recording available at SheetMusicPlus.
Sonata Hymnica No. 2 --- Score and recording available at SheetMusicPlus.
Sonata Hymnica No. 3 --- Score and recording available at SheetMusicPlus.
Sonata Hymnica No. 4 --- Score and recording available at SheetMusicPlus.
Sonata Hymnica No. 5 --- Score and recording available at SheetMusicPlus.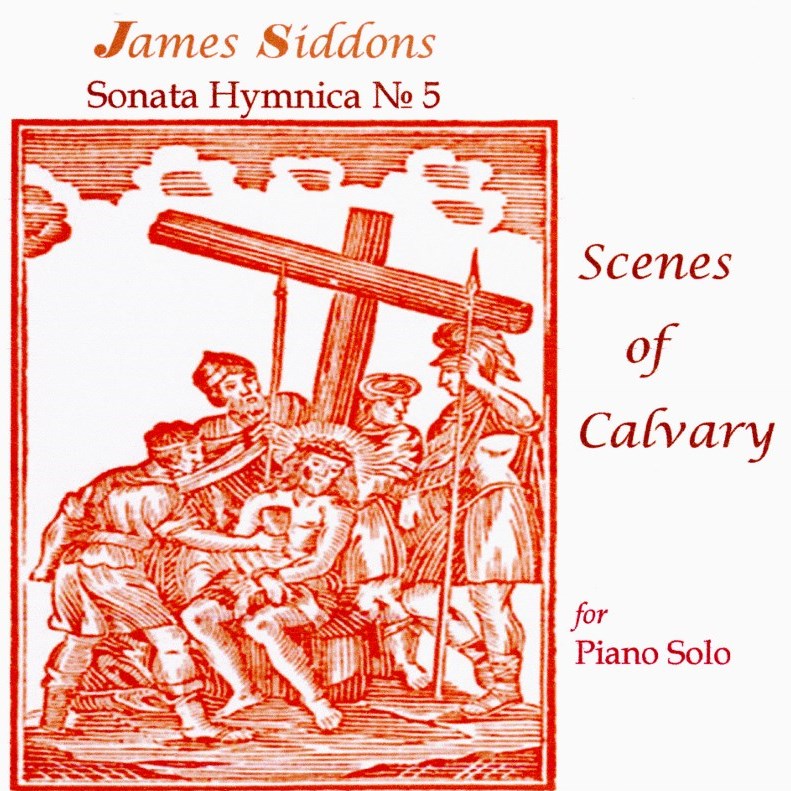 Christmas Beside an Old Piano. Available on music streaming services worldwide.
The score (piano and cello part) is available at SheetMusicPlus. Program Notes:
Joy to the World
The ebullient and euphoric expression of this interpretation disguises several rather academic techniques, including two-part canon of the opening motive, and a reverse circle of fifths progression in the middle motive ("Repeat the sounding joy").
Silent Night
There is smooth jazz harmony in this interpretation, as well as counterpoint between the melody and a bass ostinato in the opening measures and a passage near the end in which the first phrase of the melody and the melody's last phrase are heard simultaneously in two-part polyphony.
Away in a Manger
This easy-listening reflection of this gentle melody features some unusual reverberation and arpeggio effects.
It Came Upon the Midnight Clear
Imagine if a symphony composer in Vienna named Ludwig and a Country-and-Western piano player in Nashville named Floyd met at an old piano to collaborate on a cover of "It Came Upon the Midnight Clear." They might have come up with this. And maybe not.
Rhapsody on "In the Bleak Midwinter"
This work is scored for several combinations of piano and cello: piano solo, one cello and piano, and two cellos and piano. The music expresses the thoughts of Christina Rossetti's poem "In the Bleak Midwinter" (1872), especially those of Stanza 1:
Earth stood hard as iron,
Water like a stone;
Snow had fallen, snow on snow, snow on snow.
In the music, open harmony is heard in the piano, suggesting the effect of "hard as iron" and "like a stone." The flowing cello part, or two parts, express "Snow had fallen, snow on snow," as well as a phrase in the third verse of the poem:
But his mother only, in her maiden bliss,
Worshiped the belovéd with a kiss.
In the piano part, we hear the melody most associated with Rossetti's poem, Gustav Holst's CRANHAM tune (1906).
Silent Night (Beale Street, Memphis; 1914)
The four blocks of Beale Street in Memphis, Tennessee, were a bustling district of river traffic and popular entertainment in the early 20th century. The avenue fell into decline as the decades went by. This interpretation reflects on what it might have been like if the Holy Family had gone to Beale Street instead of Bethlehem. Would there have been "no room for them at the inn"?
Jingle Bells. Or, A Sleighride Around the Keys.
When James Pierpont wrote the original form of "Jingle Bells" in the late 1850s, he had in mind the horse-drawn sleighs at a winter festival in Massachusetts. His lyrics imply that the words "Jingle Bells" were a command, as in "Start jingling, you bells!" Pierpont was also apparently expressing the percussive rhythm of the prancing horses and the flow of the sleighs gliding over the snow, often wobbling, fishtailing, and even overturning. Listen for all these sound-images, and in the closing passage, a distant church bell playing the "Westminster Chime," in this happy-go-lucky interpretation.
Reflections on Favorite Hymns. MGR-1578. Copyright 2001 James Siddons. CD album of classic and modern hymns arranged by and performed by pianist-composer James Siddons. Available on music streaming services.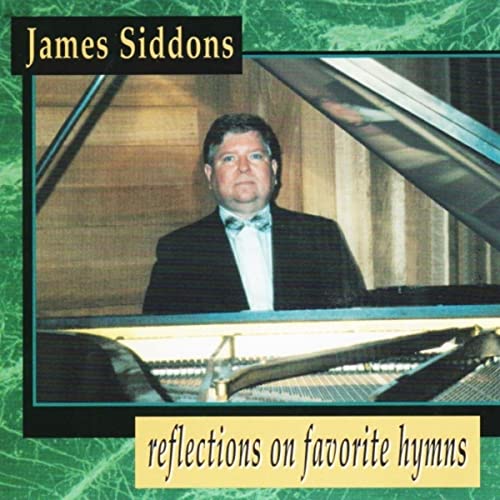 THESE HYMN INTERPRETATIONS are drawn from a long series of hymn interpretations for piano solo begun in the 1990s. They are attuned to the acoustics of small, rural churches in the Mid-Atlantic and Southern states, usually wooden buildings built in the 1800s. The ten tunes heard on this CD album come from that line of creativity, and are presented here in a playlist order that, like a 19th-century cycle of art songs, takes the listener on a journey; albeit a spiritual journey. (Consequently, this album should not be listened to in random order.)
            According to James Siddons, "These recordings were made in 1999 at the Major Recording Studio in Waynesboro, Virginia (U.S.A.). The recording engineer was Gary Major, son of studio founder John Major. When the studio closed in 2004, it had been the scene of almost half-a-century of recordings by local and semi-professional musicians in the Mid-Atlantic region; their usual genre was some form of country music or gospel music. And the studio had a well-worn Steinway grand piano made in 1899. Although my musical training was in the fine arts tradition, with study at several universities in London, the U.S., and Tokyo, the origin of these hymn arrangements in the context of old churches in rural Virginia meant that recording them on a century-old piano in this particular recording studio was bound to result in an unusually beautiful and authentic musical ambience. Simply put, the sound and feel of these recordings could not have been created anywhere else.
        "Familiar hymns have a way of taking on a meaning larger than that of their words and music. "Amazing Grace," and "Just As I Am," among many others, have been sung so many times at worship services, memorial and prayer services, camp meetings, and other highly-charged events that the collective memory of those occasions becomes itself a deeper and more timeless meaning of the song. In composing and performing these reflections on familiar hymns, I have tried to express something of the larger and deeper meaning of each hymn, some of which are reltively modern, dating from after 1950.  These recordings are especially suited for "quiet time" listening in early morning or late evening and during moments of spiritual meditation."
*         Playlist:  There's Something About That Name / Precious Lord, Take My Hand / There Is a Balm in Gilead / Amazing Grace / His Eye Is on the Sparrow / Plainfield Tune / Hispanic Medley 1. Cuando El Pobre (When the Poor Ones) 2. Tú Has Venido a la Orilla (Lord, You Have Come to the Lakeshore) / Just As I Am (with readings from Psalm 40 and Revelation 4 & 5 spoken by James Siddons).
Description in Japanese:

Following are four selections from the CD album Reflections on Favorite Hymns:
"Amazing Grace" --- This piano solo originated in 1998 at the request of a rural Virginia family who asked that it be played at a relative's funeral. This interpretation expresses the joy of families who live in American fields, forests and mountains over many generations. This recording was made in 1999 in Waynesboro, Virginia, on a Steinway grand piano made in 1899 (see photo at top). Click to hear "Amazing Grace" by James Siddons.
"Plainfield Tune" --- Plainfield is the name of a hymn tune composed by Robert Lowry in 1876 for the hymn "What can wash away my sin? Nothing but the blood of Jesus." This interpretation is a multitrack recording, with James Siddons playing on an 1899 Steinway grand piano on one track, and on a 1983 Kurzweil K-250 synthesizer on two other tracks, one for a virtual flute, and one for a virtual men's choir resembling the sound of a medieval choir of monks. Click Plainfield Tune to hear this recording.
"There Is a Balm in Gilead" --- This well-known spiritual is presented here in mid-twentieth century jazz harmony as well as passages that recall the Hammond B-3 organs used in black gospel worship services. Click here to hear this recording.
"Just As I Am" --- This hymn reflection is cinematic in concept, and has the broad sweep of a film score. James Siddons is heard reading verses from Psalm 40 and from The Book of Revelation, Chapters 4 and 5 (KJV), as well as performing on the 1899 Steinway grand piano. Click to hear this recording.
*      Some comments received from listeners: Mr. Siddons is a superb and sensitive musician; his piano playing and his words reflect his love of God, his love of mankind, his wishes for peace...It's a c.d. I'll always take with me...---Hispanic working mother in northern Virginia// ...a very peaceful and lovely interpretation of some of my favorite hymns. It takes me right back to my childhood church and all the happiness and security that I felt there---public school teacher// I found it to be marvelous "listening" music, but after having "listened" to it, I then heard it as a spiritual reflection/meditation. I thus appreciate the multiple gifts--and the multiple opportunities for hearing--that you bring to bear in this single recording--Prof. Karen B. Westerfield Tucker, Boston University School of Theology// The CD is beautiful...and it is powerful---a church musician in Virginia/ I did get the CD. What a wonderful blessing you are. I love the music and so do my friends---Kimberly Easton, former reporter at WZZM Channel 13, Pittsburgh, Pennsylvania// I've enjoyed it daily...you did a beautiful job and I plan to play it often for other residents---retired missionary in a North Carolina nursing home (32 years in China, Malaysia & Singapore)//  Christmas Day, we enjoyed your CD. The hymn arrangements are beautiful and warmed our hearts---grandmother in Staunton, Virginia// I am listening to it as I write this. It is beautiful and soothing---an administrator at Duke University Divinity School// I have enjoyed the CD. You are apparently not only a good pastor, but a genius at the piano---retired pastor in North Carolina// Thank you so much for an amazing year and for your CD! It's in my car and I listen to it a lot while driving around!---Curtis (former student)// I really appreciate your CD . . . I will listen to it when I go back to South Korea this summer :)---Jinny, from South Korea
Click here to go to the Home page. Click here to see scores (sheet music) for piano by James Siddons.