Music for Piano -- Jazz, Rock, Ragtime, Popular -- Scores, Recordings, Videos
As a composer and piano soloist, James Siddons has a special interest in the role of the piano in American music: the piano in rural Protestant churches (1850-1950), piano accompaniment of silent motion pictures, ragtime, and mid-twentieth century jazz piano, to name a few.
Pianist James Siddons has performed publicly since 1959. In the 1960s, he performed a wide variety of music as piano soloist, and as a member of various jazz, Top 40, and rhythm-and-blues groups. He performed in many venues, ranging from classical recitals to sock hops to the open-air stage at the State Fair of Texas. In 1968, he once played Hammond B3 organ at the Forest Theater in Dallas. He was pianist for the 1969 Summer Stage Band at the University of North Texas (Leon Breeden, director).
His deep interest in American music of the 1850-1950 era began in 1961 with his piano lessons with Eva Jo ("PeeWee") Baggett (d. 1989), who had a long career in Texas and California playing piano for silent movies, live radio shows, and ballrooms. In retail music stores, she accompanied Eddie Cantor and other singers who came to town to promote new Tin Pan Alley songs. In 1915 she learned to play "12th Street Rag" from the composer, Euday L. Bowman, at the cafe in Fort Worth where he was playing; in 1961 she taught James Siddons to play it, using the same piece of sheet music. Over three years, "PeeWee" Baggett taught James Siddons an authentic way of playing ragtime, piano blues, "standards" of the 1920s, and other popular styles of the early 20th century.
He has also composed vocal and instrumental works in various fine-arts idioms of the twentieth-century, some of which are described below. See also Early Electronic Music.
This page of The Music and Writings of James Siddons website is a catalogue of many of his piano compositions and works for various combinations of instruments and voice, with information on downloading and streaming recordings, purchasing scores (sheet music), and other information. Click here to return to the Home page.
Catalogue
Three Beatles Songs
These arrangements for piano solo explore three well-known Lennon-McCartney melodies in the sound world of jazz and popular music of the mid-twentieth century. Audio recordings and sheet music are available.
"Yesterday" Recording (download or streaming): click here. Score (sheet music): click here.
"Girl" Recording (download or streaming): click here. Score: click here.
"Do You Want to Know a Secret?" Recording (download or streaming): click here. Score: click here.
In and Around Ragtime
This album features live recordings of James Siddons in solo performances of ragtime and blues favorites, William Bolcom's "Graceful Ghost Rag," and a live recording as piano soloist with the University of North Texas Summer Stage Band, with Leon Breeden conducting, in Sammy Nestico's arrangement of "Who's Sorry Now?"
To download or stream the album or individual tracks, click here.
Earliest Piano Pieces of James Siddons
This short album has the five earliest completed compositions of James Siddons, five short piano solos composed in 1965 and 1966, when he was 16 and 17 years old. Four of these works existed only in pencil manuscript for over fifty years, until being scored in 2020. The fifth, "Improvisation in Blues," was a home recording (7-inch reel-to-reel tape) until being converted to digital form and released in 2019. This improvisation was transcribed into piano solo score in 2020. The five scores (sheet music) are published as an album at www.sheetmusicplus.com. The album is avaliable at Amazon Music, iTunes, etc, as well as YouTube.com
Searchin' Five '66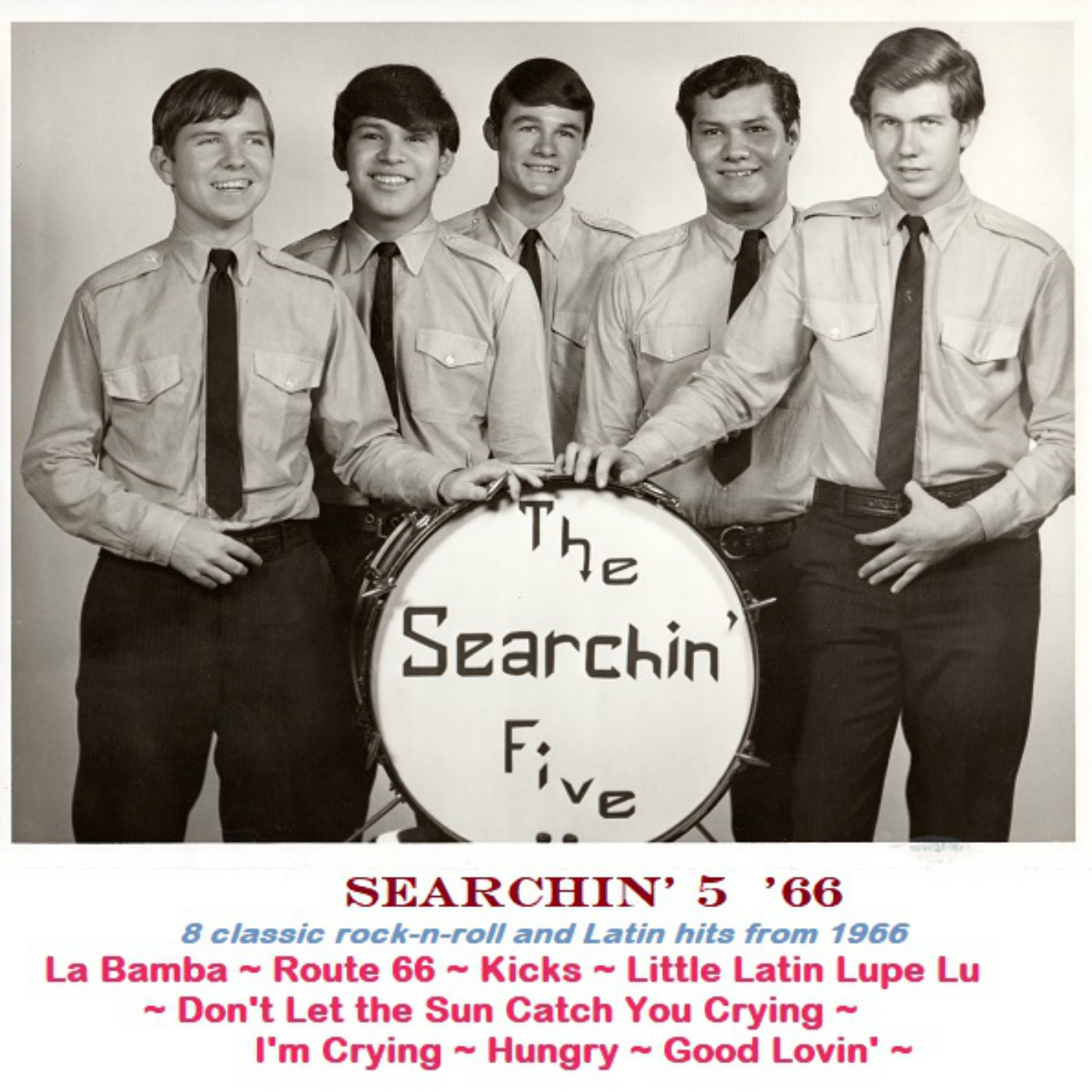 The Searchin' Five were a five-member band that played Top 40 and Latin hits in the Dallas, Texas, area in 1966. This album of eight songs evokes the musical style of that era as well as demonstrating the talents of the band's members (photo left-to-right): James Siddons, organ – Doug Verver, lead singer and rhythm guitar – Tom Larson, lead guitar – Jack Verver, electric bass –Devin Dodson, drums. Below: poster from Canton, Texas, 1966.
To download or stream the Searchin' Five '66 album or the individual tracks, click here.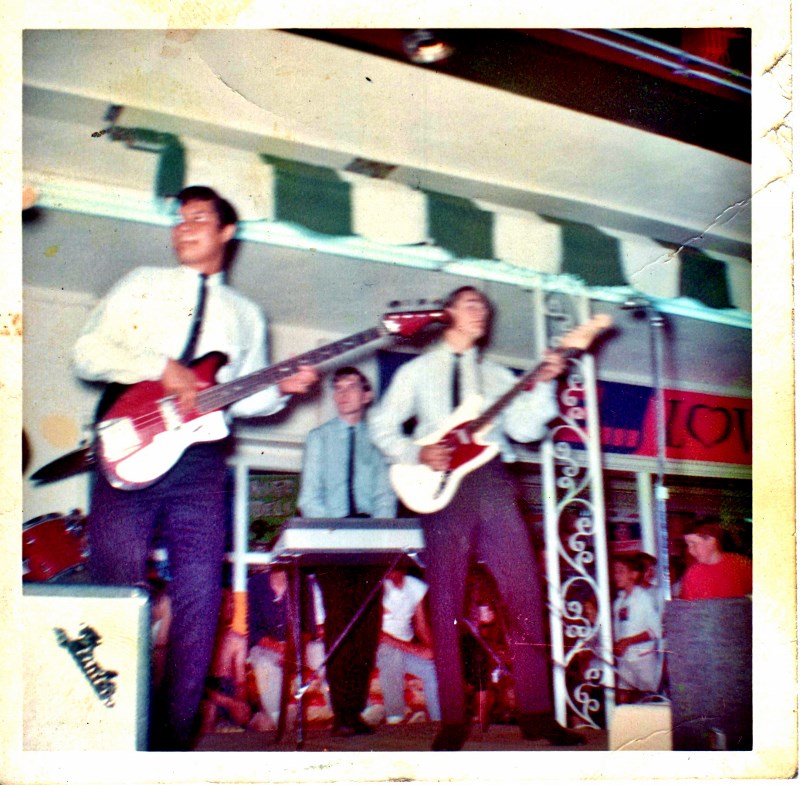 Above left: Poster for Searchin' Five appearance in Canton, Texas, September 24, 1966. Center, right: outdoor concert at a 7-11 store in Irving, Texas, summer 1966. Below: Photo in The Dallas Morning News, August 1966.
More about popular music in Dallas, Texas, in the 1960s . . .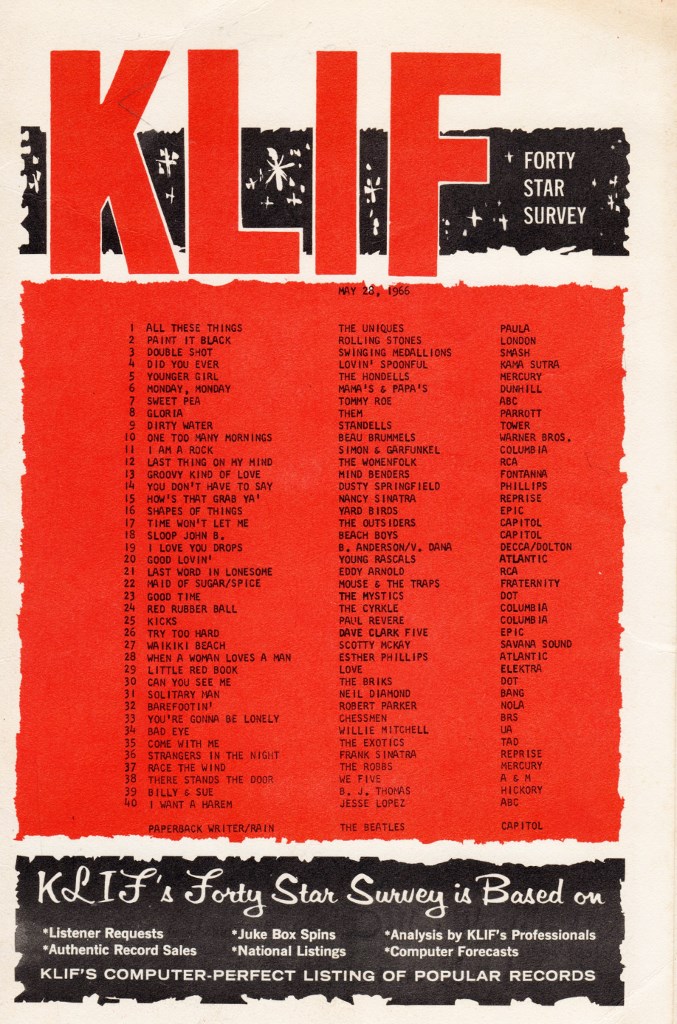 Above: Radio station KLIF 1190 AM published weekly pamphlets with a "computer-perfect listing" of the forty most popular 45-rpm recordings in the Dallas market. The inner pages had photos of Johnny Dark, Jimmy Rabbit, and other disc jockeys, publicity photos of rock performers, and song lyrics. Shown here is the "forty-star survey" of May 29, 1966. The Number 1 song was "All These Things" by The Uniques, Number 2 was "Paint It Black" by The Rolling Stones, No. 25 was "Kicks" by Paul Revere and The Raiders, and, in a show of diversity, Number 21 was "Last Word in Lonesome" by Eddie Arnold and Number 36 was "Strangers In the Night" by Frank Sinatra. The back panel carried the lyrics of "Paperback Writer" (Lennon-McCartney).
In addition to the Searchin' Five, James Siddons played in a number of semi-professional groups in Dallas in the 1960s, as well as solo appearances, such as at Club 301 in 1965 (see poster).
On December 26, 1964, James Siddons and his brothers had this photo taken, as a belated Christmas gift to their mother, in which they tried to pose as the Beatles did in one of their publicity photos of 1963-64. From left to right, the photo shows Joseph Siddons, who became known as the blues singer-guitarist "Diamond Joe" Siddons in New York City, James Siddons, Ronald Lee Cox, and Hans Richer, who sometimes played bass, but later raised cattle on his ranch near Waco, Texas.
In 1968, James Siddons was organist for Arthur Jerrell and the Soul Men Orchestra (see photos below, left). This group performed "soul music" hits of the time, including songs by Otis Redding, Sam and Dave, Marvin Gaye, and others. They once appeared at the legendary Forest Theater in Dallas (photo below, right), where James Siddons played Gershwin's "Summertime" and similar selections on the theater's Hammond B-3 organ during the instrumental interludes.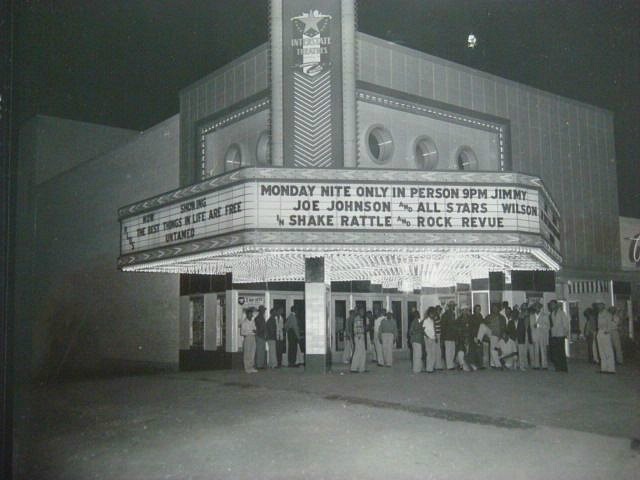 After performing with the University of North Texas Summer Stage Band in 1969 (see the "Who's Sorry Now?" recording on the In and Around Ragtime album (click here), James Siddons rarely performed popular music in public (except ragtime) and concentrated on academic study in music composition, musicology, and, after arriving at the Tokyo University of Arts, ethnomusicology.
Arrangements of Ragtime Classics for Cornet and Piano, and Piano Ensemble
A Breeze from Alabama for cornet and piano ensemble or duet.
A transcription by James Siddons of Scott Joplin's work for his friend P. G. Lowery, a cornetist and band leader. James Siddons has arranged Joplin's piano solo -- part ragtime, part military march -- for cornet solo with accompaniment by piano duet, or piano ensemble. This arrangement features an extended cadenza by Siddons. A conductor's score is also available. To purchase the piano duet/ensemble part, click here. To purchase the cornet (or trumpet) part, click here. To purchase the conductor's score, click here. A digital (virtual sounds) track can be heard with each of the foregoing scores.
A Million Buffalo Roam
(album art buffalo photos from a short film by Edweard Muybridge made in 1883)

Upon examining the score of Tom Turpin's "Buffalo Rag" of 1904, James Siddons concluded in 2016 that the music is improvisatory in nature and the score presents only the main musical components of a performance by a ragtime or vaudeville pianist. Drawing on decades of familiarity with many types of ragtime-era music, James Siddons has created an arrangement of Tom Turpin's music under the title "A Million Buffalo Roam" that better represents how a ragtime pianist of the 1904-1910 era would have actually performed --- improvised from --- the sheet music. In particular, following the tradition of ragtime-era pianists of playing two familiar melodies at once, this arrangement incorporates the melodies of "Home on the Range" and "The Star-Spangled Banner" individually and polyphonically. James Siddons has created piano solo and piano duet/ensemble transcriptions of his arrangement. To purchase the piano solo version, click here. For the piano duet/ensemble version, click here. For the piano-ensemble conductor's score, click here. To hear this music on YouTube, click here (live performance at Harper College in 2018) and here (virtual sounds).
Contemporary Recital Pieces for Piano Solo
Seven Pieces in Twentieth-Century Styles
d

e

B

u

ss

ãâ

D

2

B

im

é

I

y

1

P

T

P

A

­

£

R

W

H

O

L

E

---

T

O

N

E

N

?

O

D

S s

Du-

Tri-

A

T

O

N

E

I

P

O

L

Y

___

c ⅞

1

D

O

L

¬

&

C

N

E

«

P

R

E

S

S

I

O

N

ism
James Siddons Seven Pieces in Twentieth-Century Styles I. Intonatione in the Whole-Tone Scale
II. Martial Prélude and Nocturne in Modes III. An Impression of Impressionism
IV. An Imitation of Roy Harris
V. Adding Chord-Tones While Shifting Meters
VI. Ragtime Bitonality
VII. Diatonic Waltz
These short pieces for piano solo illustrate the style elements of Impressionism, Bitonality, and the music of several composers active in the first half of the twentieth century. The level of difficulty is intermediate. These pieces, each less than a minute long, are useful for student recitals. The album art (crossword puzzle) is by James Siddons. To purchase the score and hear sample recordings, click here. To download or stream the album, click here.